南京巴合曼电气有限公司可生产不锈钢机柜工艺特点介绍
1、箱门离地25mm
2、2.5mm厚镀锌安装板,两边有20mm宽的U形弯边,使得安装板强度更大,也便于搬运
3、箱底三块电缆导入盖板,可以相互替换,移动方便,易于导入电缆,易于开孔进线
4、多点接地螺柱,安全可靠
5、承重铰链,安装容易,门体互换简便快捷
6、塑料滑引块可利用塑料引入器通过导轨从正面将安装板推入箱内
7、带模数化孔的加强方管,不但可以加强前门的强度,还可以用来固定安装电器元件(配合门安装横条使用)
8、背板固定简便,拆卸方便快捷,可换装箱门(前后开门)
9、岔道锁,上、中、下三点锁紧,保证防护等级,还可按用户要求配置其它各类品牌锁具
10、密封圈:聚氨脂发泡密封胶条,进一步确保防护等级
11、箱体防水折边与箱门密封圈紧密配合,有效防止水和灰尘落入柜内
12、(单门)左右可互换设计,方便使用和现场调整
13、标准模数化安装设计,安装方式灵活方便
14、内灯,方便弱暗环境维修和检测
15、资料盒,资料存取简捷方便
16、安装梁,不使用安装板,配置一定数量的安装梁可组合灵活多样的安装方式(自选件)
17、风机及过滤网,保证柜内通风,防护等级IP54(自选件)
18、底座,分为固定式与活动式,固定式安装简易方便,活动式安装灵活使用方便
19、双安装板,可按用户要求配置前后双安装板,甚至侧安装板,超大安装容量(自选件)
20、门安装条,配合带模数化孔的加强方管使用,安装方便灵活
MS stainless steel operation cabinet
1.Cabinet door is 25mm above the ground.
2.2.5 mm thick installation plate, both sides with U curve 20 mm width, making installation plate more strengthful, for easy transportation.
3. Three box bottom cable entrance cover plates, can be interchanged, move conveniently, easily conducting cable, easy to open hole for cable entrance.
4. Multiple ground stud bolts, safe and reliable.
5. Bearing hinge, easy to install, door can be made quick and conveniently interchangeable.
6. Plastic slip inducer makes use of plastic slip inducer over guiding rail, can push installation plate inside the cabinet from front.
7. Rigid rectangular frame can not only strengthen the strength of front door, but can also be used to fix installed electric appliance component (with horizontal door installation strip).
8. Back plate can be installed easily, can be disassembled quickly and conviently; cabinet door can also be replaced(front and rear opening door).
9. Turnoff lock can lock cabinet from top, middle and bottom three points, ensuring protection grade, can install other brand locks as per the customer's requirement.
10. Seal ring: polyurethane sealing strip insures protection grade.
11. Cabinet water resistant fold side matches with seal ring to prevent water and dust from entering cabinet.
12. (Single door) left-right interchangeable opening design for easy usage and site adjustment.
13. Standardarized moldular installation hole design, convenient installation.
14. Internal light, convenient dim environment installation and inspection.
15. Document bag, convenient document saving and obtaining.
16. Installation beam, can also perform inside installation without installation plate(selective).
17. Fan and filter element, ensure well cabinet inside ventilation, protection grade IP54(selective).
18. Base, fixed and detatchable, convenient installation (selective).
19. Double installation plate, can be equipped with front and rear installation plate as per customer's requirement, even side installation plate or super volume plate(selective).
20. Door install strip, matching modular hole for strengthing square pipe usage and convenient installation.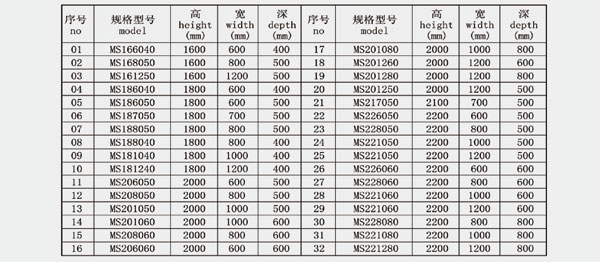 1、安装板一块(2.5mm镀锌板)
2、门安装条两根
3、文件袋一个
4、安装纵梁两根
5、内灯、开关一套
6、前单开门后背板
7、简易包装
1. One installation plate(2.5mm galvalnized plate)
2. Two door installation strips
3. One document bag
4. Two installation stringers
5. A set of internal light and switch
6. Single front opening door back plate
7. Simple packing
柜体颜色 RAL7032(用户可选) 材料 箱体1.5mm,sus304不锈钢(或用户要求其他钢号) 门2.0mm,sus304不锈钢(或用户要求其他钢号) 安装板2.5mm,镀锌板 表面处理 拉丝处理(或喷涂) 防护等级IP54
Cabinet color
RAL7032(customer selection) Material cabinet 1.5 mm, sus 304 stainless steel(or other type of steel as per the customer's requirement)
Door 2.0 mm, sus 304 stainless steel(or other type of steel as per the customer's requirement)
Installation plate 2.5 mm, galvalnized
Surface treatment
Drawn treatment (or spraying)
Protection grade IP54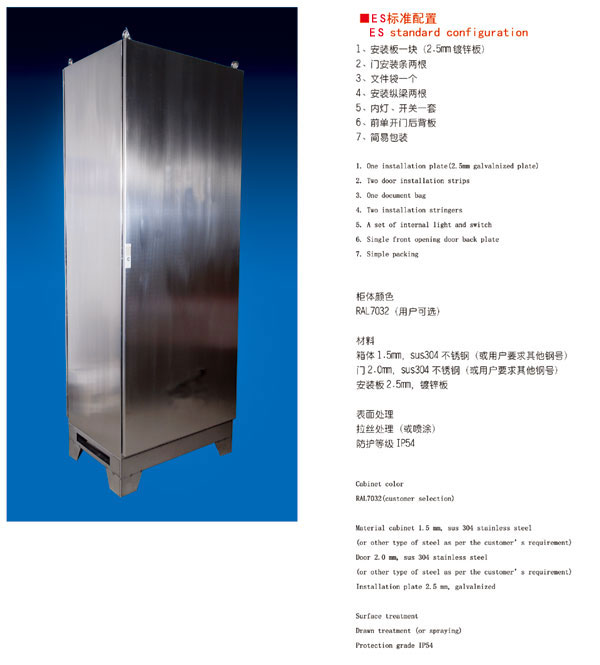 如需了解本公司更多产品,请点击本公司网站首页www.baheman.com!