"巴合曼"DQ-2琴台柜工艺特点介绍
1、前后开门及操作面盖板可打开,方便安装;
2、内置安装板可前后移动,使内部安装更加灵活;
3、门安装嵌条:已打好装配孔的嵌条焊接于门板的两侧和操作面盖板的上下位置,并借助于安装条,使门板及盖板的安装更加灵活,走线更加方便;
4、槽型箱边与门体聚氨脂发泡密封胶条确保了柜体的防护等级;
5、门板可左右互换安装,加强了柜体的实用性;
6、原装进口的操作面盖板液压支撑,大大提升了柜体档次,更好的体现了柜体的人性化设计。
DQ-2 Piano platform cabinet
1. Front and rear open door and operating panel cover can be opened, convenient to install;
2. Internal installation plate can move to and fro, make internal installation more flexible;
3. Door panel strip installation: weld panel strip with assembly holes perpendiculy to the sides of cabinet door and upper and lower positions of operation surface cover. Relying on panel strip, it makes door plate and cover installation more flexible, line orientation more convenient;
4. Slot cabinet side and door polyurethane sealing strip ensures cabinet protection grade;
5. Left and right door plate installation is interchangable, strengthenning function of cabinet;
6. Original import operation surface cover hydraulic support, promoting cabinet class extensively, reveal humanized cabinet design.
1、安装板一块 (镀锌)
2、前后开门,操 作面盖板可打开 并配有液压支撑
3、简易包装 柜体颜色 RAL7032(喷塑)
1. One installation plate (galvanized)
2. Opening front and rear door, operating panel cover can be opened, with hydraulic support
3. Simple packing Cabinet color RAL7032(plastic spraying)
1、材料 冷轧钢板 门2.0mm 箱体1.5mm 安装板2.5mm
表面处理 磷化、喷塑 防护等级 IP54 1. Material
Cold rolled steel plate
Door 2.0 mm
Cabinet 1.5 mm
Installation plate 2.5 mm Surface treatment
Phosphating, plastic spraying
Protection grade IP54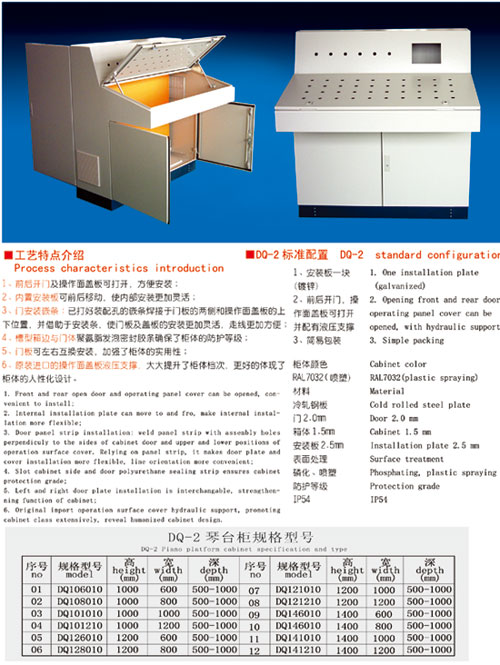 如需了解本公司更多产品,请点击本公司网站首页www.baheman.com!