"巴合曼"DQ-1斜面控制台标准配置
1、安装板一块 (镀锌)
2、前双开门后背板 (600宽为前单开门)
3、盖板支撑
4、简易包装
DQ-1 standard configuration
1. One installation plate (galvanized)
2. Front and back double-opening back plate (600 width front single opening door)
3. Cover plate frame
4. Simple packing
柜体颜色 标准色RAL7032(喷塑) 或客户自选 Cabinet color
Standard color RAL7032(plastic spraying) or customer selection 材料Material
冷轧钢板Cold rolled steel plate 门2.0mm Door 2.0 mm
箱体1.5mm Cabinet 1.5 mm 安装板2.5mm Installation plate 2.5 mm
表面处理Surface treatment
磷化、喷塑Plastic spraying 防护等级 Protection grade
IP54 IP54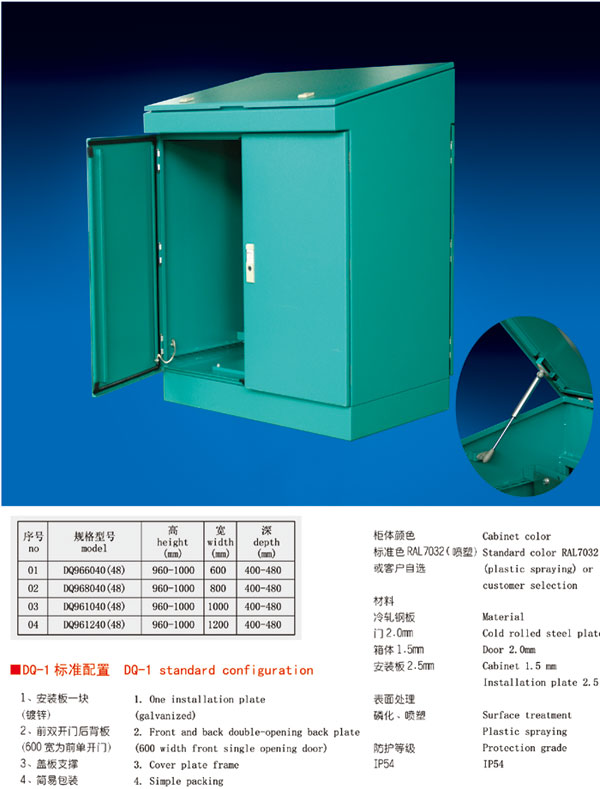 工艺特点介绍
1、门可前后开启,方便安装
2、内设安装板
3、门安装嵌条:已打好装配孔的嵌条垂直焊接在箱门的两侧,使用M4自攻螺丝,方便安装
4、密封圈:聚氨脂发泡密封胶条,性能可靠
5、门可开启110°
6、槽型箱边:防止灰尘和水进入箱内,并且完好的形成密封圈配合,形成对箱内的防护
7、(单)门可左右互换安装
8、底部凸台盖板进线,可拆下开孔并配有密封圈,防护等级IP54
9、安装板也可用桔黄色平光粉
1. Door can be opened in the front and from the back for easy installation.
2. With internal installation strip
3. Install door panel strip: Weld panel strip with assembly holes perpendiculy to the sides of cabinet door, use M4 self tapping screw for easy installation.
4. Seal ring
Polyurethane foaming seal strip seals relibly.
5. Door can be opened to 110°.
6. Slot cabinet side
Prevent dust and water from entering the cabinet, and can seal completely with sealing strip, forming protection inside the cabinet.
7. (Single opening) door can change from left to right.
8. Bottom convex plate line entrance, dismantable bottom opening with seal ring.
9. Installation plate can also use orange yellow flatting agent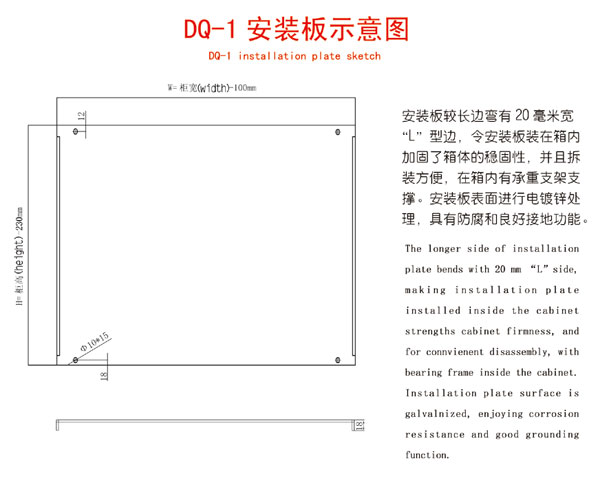 DQ-1安装板示意图
安装板较长边弯有20毫米宽"L"型边,令安装板装在箱内加固了箱体的稳固性,并且拆装方便,在箱内有承重支架支撑。安装板表面进行电镀锌处理,具有防腐和良好接地功能。
DQ-1 installation plate sketch
The longer side of installation plate bends with 20 mm "L"side, making installation plate installed inside the cabinet strengths cabinet firmness, and for connvienent disassembly, with bearing frame inside the cabinet. Installation plate surface is galvalnized, enjoying corrosion resistance and good grounding function.
如需了解本公司更多产品,请点击本公司网站首页www.baheman.com!